Golden Key Promotions
Looking to unlock the possibilities of a promotional campaign?
With a few simple clicks you will find the key to your marketing and promotional success.
With 1000s of selections, Golden Key Promotions offers branded merchandise to fulfill all of your needs.

Put our knowledge about promotional products to work for you. With high quality promotional products, fast delivery times, and prices to fit all budgets, we will provide customized, relevant recommendations for you. Simply take a look around or contact us now and we'll do the shopping for you!
Featured Item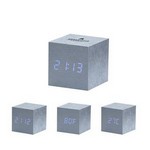 MoMA Alume Cube Clock
Designed by Natalie Sun, the Alume Cube Clock has a textured surface. Snap your fingers or tap the cube and the green LED display reveals the time, date and temperature and after a few seconds the dis...

Signature Showrooms